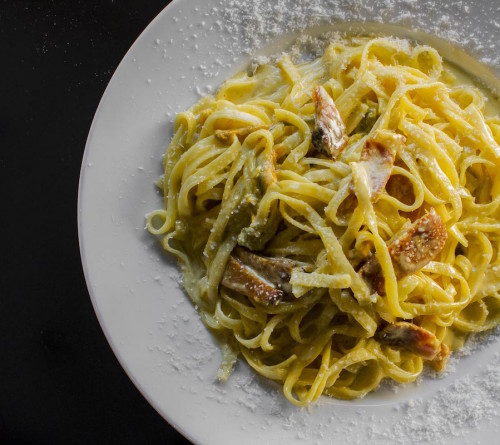 TAGLIOLINI RAF
A delicate and delicious first course: the sweetness of the zucchini flowers are well balanced with a decisive bacon taste and aromatic notes of saffron. A dish not to be missed!
RISOTTO with orange and asparagus tips
The orange-flavored risotto is a tasty and fragrant main dish: the asparagus tips, sweet and tender, are heightened by the acidity of the orange, thus liberating unique flavors.
grilled tagliata beef
Danish meat, which is a synonym of quality, and our grill: it is garnished simply with fresh arugula and cherry tomatoes so as to enhance the quality of the meat.
tagliata beef with truffles sauce
It's the ideal second course for those who want to try the taste of quality Danish meat. It's served with truffles sauce and champignon mushrooms and topped with thin shavings of PDO Grana Padano (Parmesan cheese).
TENDERLOINE FILET WITH WALNUT SAUCE
The tenderloin filet, the most prized cut of beef, is laid on toasted bread and covered with homemade walnut sauce and chopped walnuts.
RAF BURGER
The Raf Burger isn't your usual burger, it's a real tribute to quality street-food. It's strong point? The soft, easily digestible bread and the quality meat without additives or preservatives.
AMATRICIANA PIZZA
Imagine a delicious plate of 'bucatini all'amatriciana' pasta that looks like a pizza: this is the Amatriciana Raf. Only quality ingredients, cooked in our wood oven.
APPLE FRITTERS
Children love this sweet and its strong point is its simplicity. Raf offers this traditional sweet, all year round.
Fagottino with Ricotta and Nutella
The Fagottino is pizza dough that is expertly crafted by our pizza chef and is made in the characteristic "fagotto" shape. It's stuffed with fresh ricotta cheese, Nutella and pine nuts to garnish the dish.